It's no secret that the more immersive a video is, the more love it's going to get. If you can slow video down in the right way, you can perfectly display the emotion, drama, and visuals crafted in the scene. A slow down video or slow-motion can work really well to emphasize something in the scene as well.
For example, it can slow down on a character going through heartbreak and in tears, which then leads to the viewers forming a strong bond with the character from that moment onwards.
With a slow motion video maker, it is not only possible but also pretty easy to create such slow-motion moments in your video. Many video editors and content creators can benefit from such applications. Also, if you have other special needs like changing the frame rate of the video, an AI FPS Converter is your optimal choice.
Introducing Slow Motion Video Editors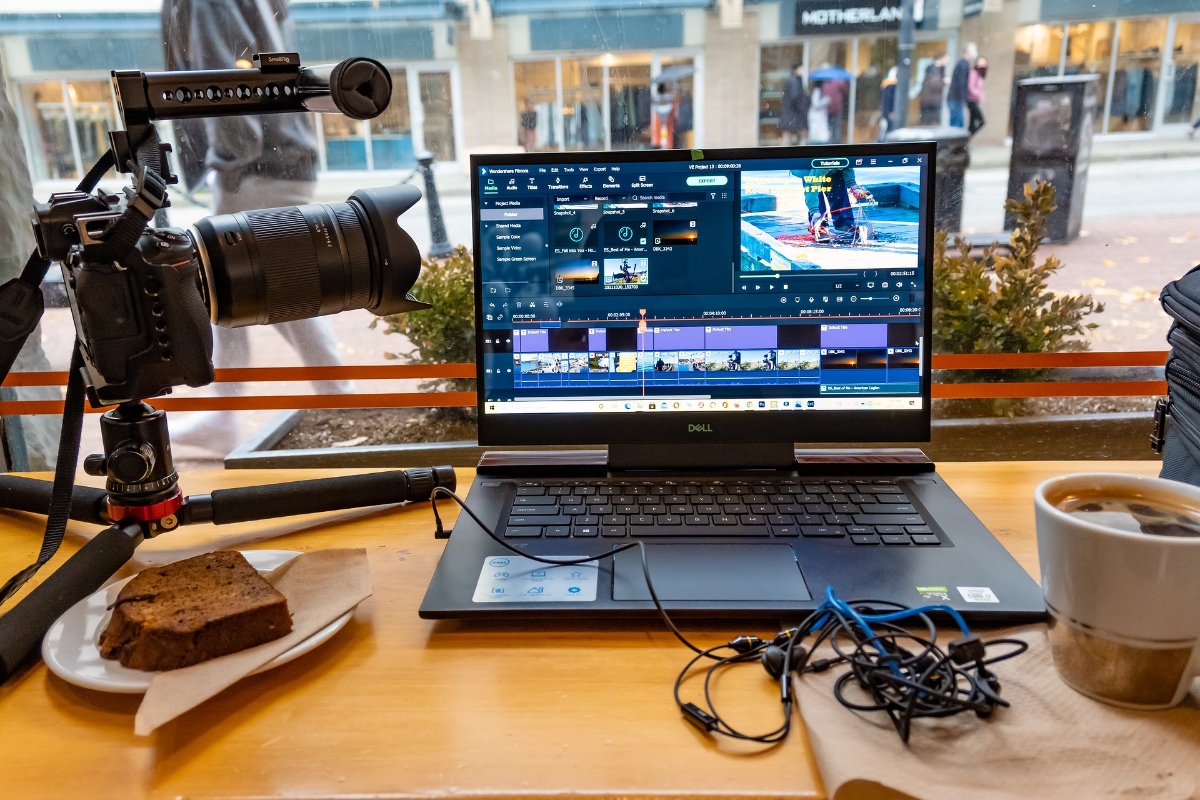 In simple terms, a slow motion video editor is a video editing app that has the feature of slowing down a video's playback speed. It is done in order to create special focus on a subject and to draw everyone's attention to it. But if your original videos are of low-quality, then you may need an AI Video Enhancer to enhance the video quality first.
A slow motion video editor tool can heavily simplify the process of creating slow-motion effects in a video in multiple ways. Some of those include having an intuitive UI design that anyone can navigate and understand, AI-based approach to video processing, and more.
For users who are looking to learn how to make a slow motion video, applications that offer beginner-friendly features can be desirable.
How Slow Motion Video Editors Work?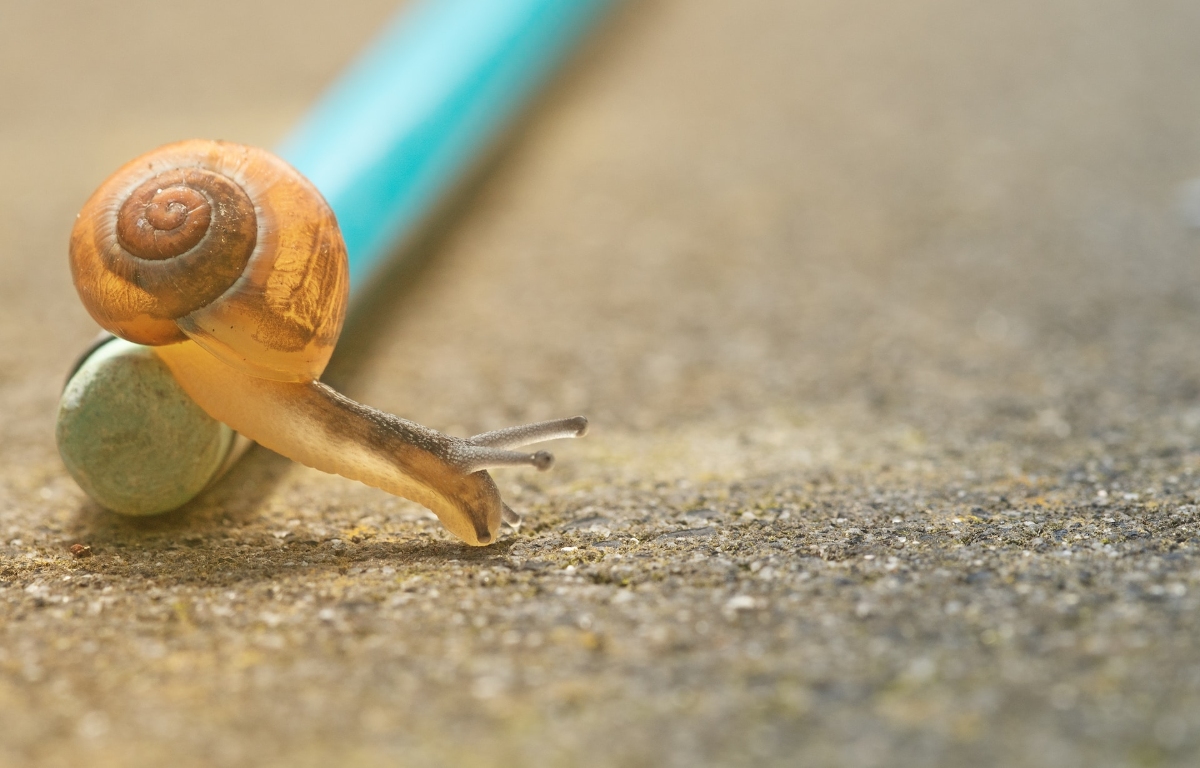 Slow motion video maker apps provide an intuitive interface for users to adjust the playback speed of their videos. Users can select the desired speed reduction, such as 50% or 25%, effectively stretching the video's duration. However, these apps make video slow motion with frame interpolation techniques so that the playback does not look weird, but rather fits in with the rest of the video smoothly.
Creating a compelling slow-motion video involves advanced technology and precise techniques. Frame rate adjustment is a fundamental element; recording at higher frame rates, such as 120 or 240 FPS, provides more frames to slow down, resulting in smoother slow-motion playback.
During editing, frame interpolation may be employed to generate extra frames between originals, ensuring fluidity. Rendering plays a crucial role in the final output, requiring substantial processing power to maintain quality.
Slower playback speed extends the duration, demanding more frames, which can strain hardware. Hence, balancing frame rate adjustments, interpolation, and rendering capabilities is vital for achieving a high-quality slow-motion video.
Real-world Applications of Slow Motion Video Maker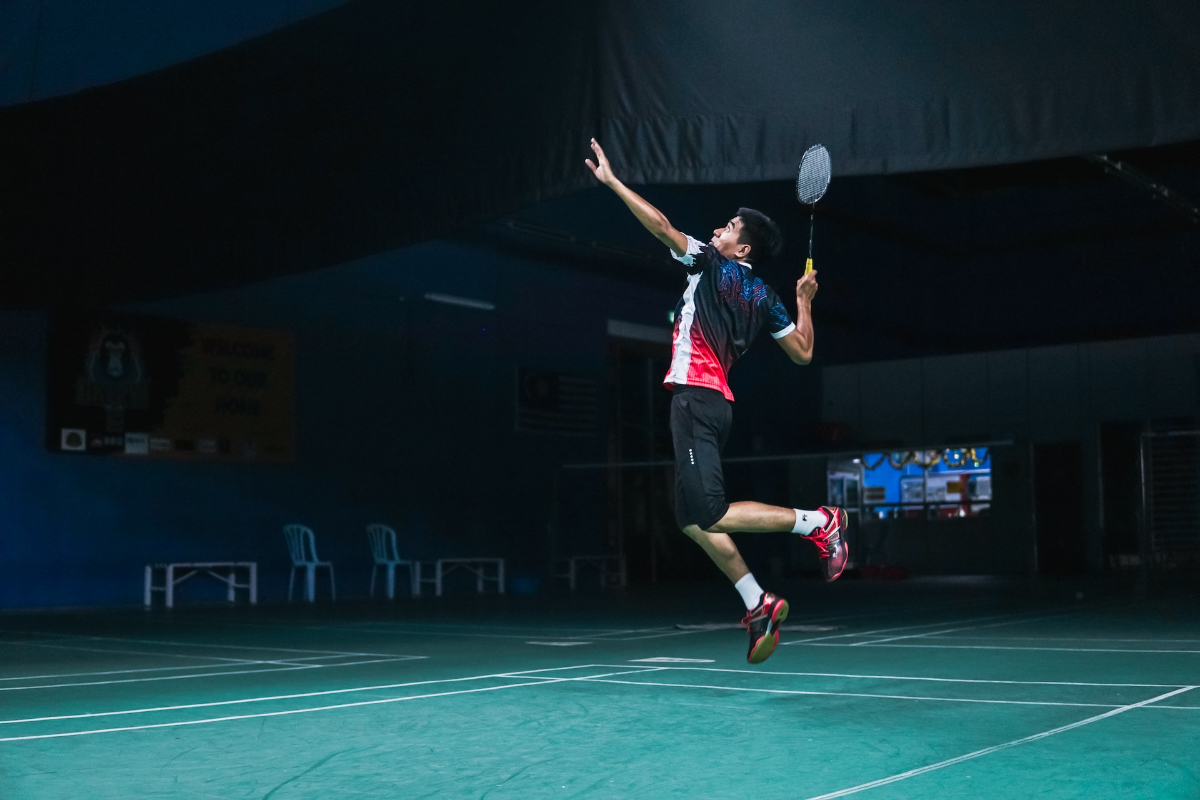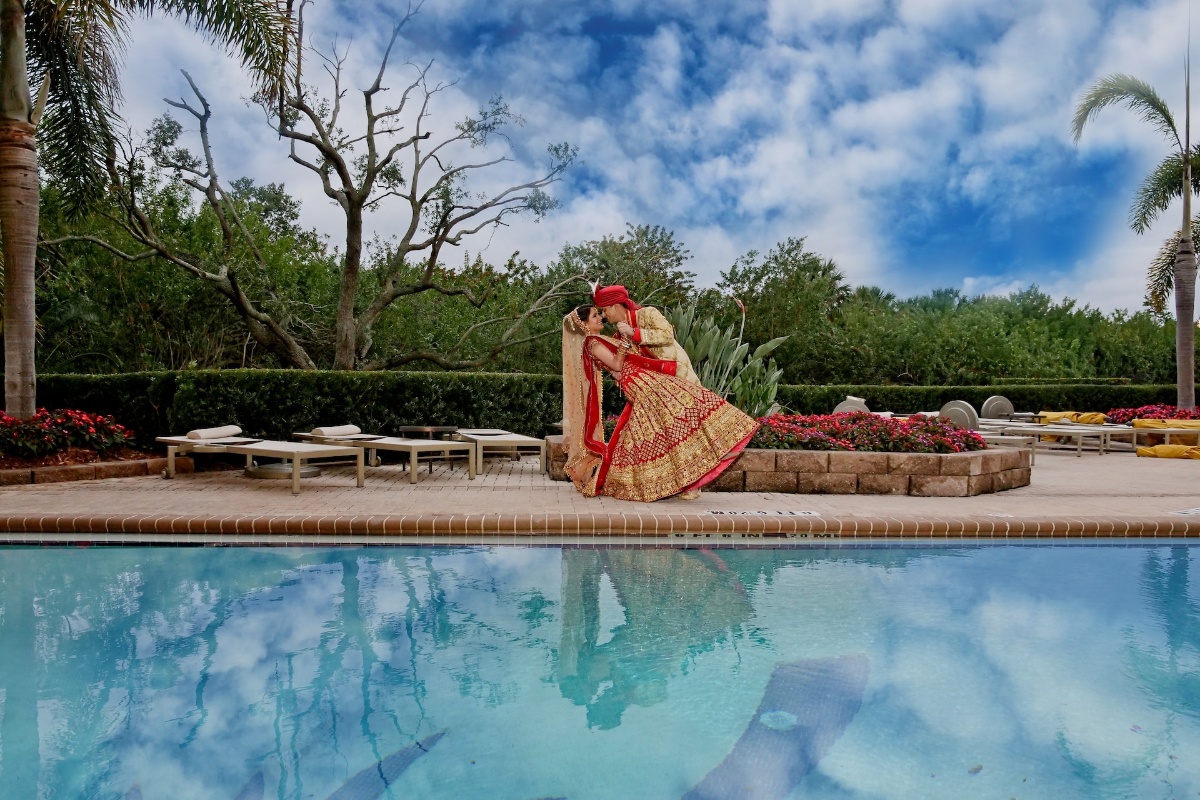 Weddings and Events
Slow motion video maker tools can be used to capture those dreamy and emotional moments that often come with weddings. Those special few frames can be saved and cherished by families for many years to come. Such tools can be used to capture culture, food, happiness, excitement, and funny moments.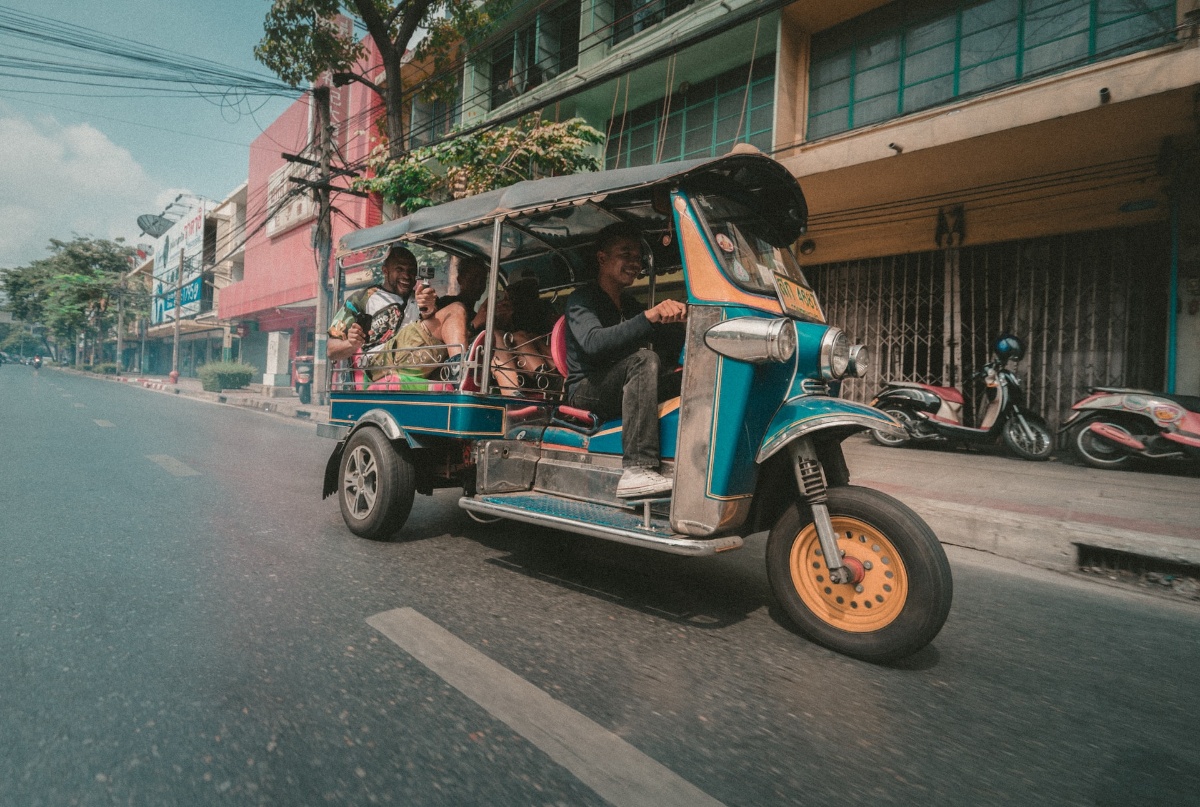 Tools to Make a Video Slow Motion
Veed.io Slow Motion Video Editor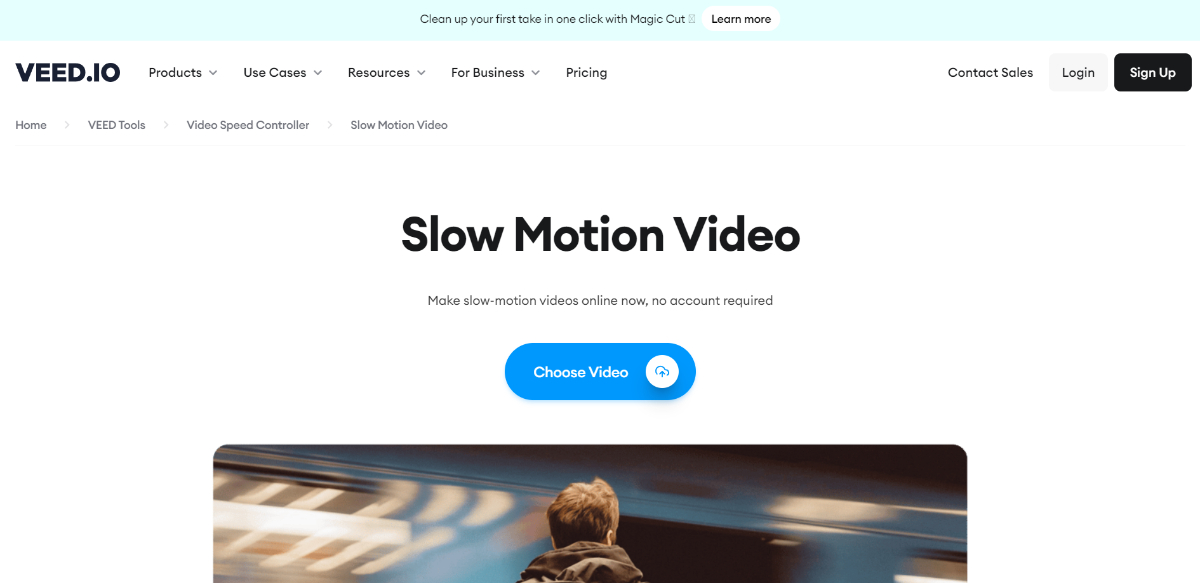 Veed.IO is a versatile online video editor that offers a user-friendly platform for crafting captivating slow-motion videos. With its intuitive interface and a range of features, it simplifies the process of creating stunning slow-motion effects. With the slow motion video editor online, most users will find it highly accessible.
Pros:
User-Friendly: Veed.IO is exceptionally easy to use, making it accessible to beginners and casual video creators.
Online Accessibility: It's a web-based platform, eliminating the need for software downloads or installations.
Speed: Veed.IO allows for quick video editing, including straightforward slow-motion adjustments.
Cons:
No Advanced Features: Compared to many other software tools, Veed.IO does not offer enough advanced features.
Watermark: The free version comes with a watermarked output.
Runway Super-Slow Motion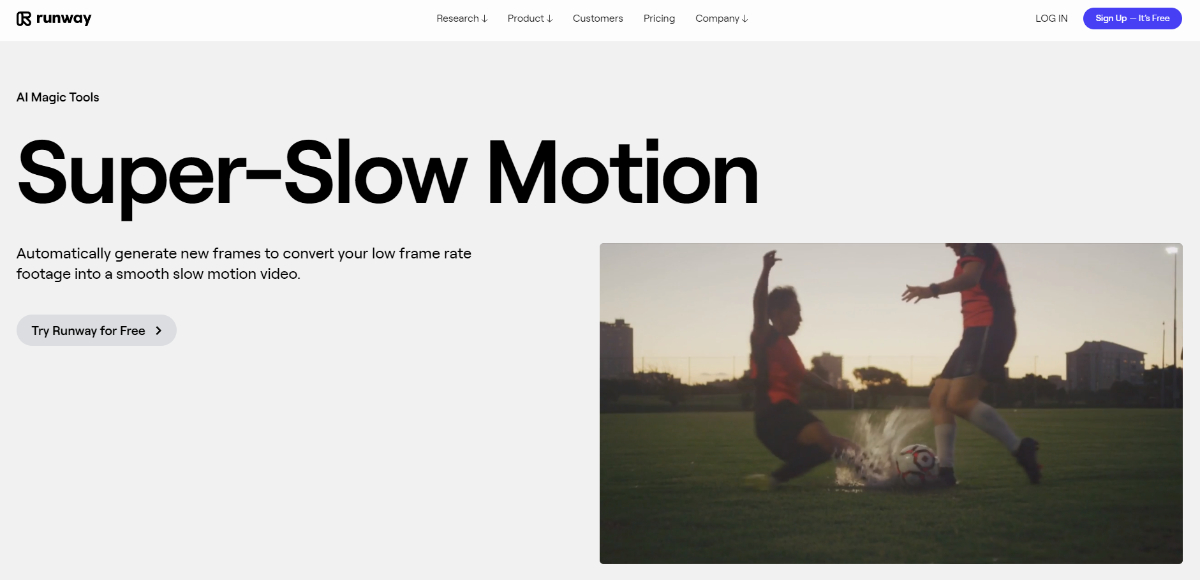 Runway's Super-Slow Motion tool is an innovative solution for creators seeking unparalleled control over slow-motion video production. This slow motion video maker works differently than the traditional applications, due to Runway's design and technology.
Here, users have to describe the kind of video they want the AI to create through text. Therefore, with a good text prompt, users can create interesting slow motion videos. This tool can be ideal for users who do not know how to make a video slow motion through the usual means. However, this tool has a high requirement for the resolution of the original video, an AI Video Upscaler can help you upscale your video to 4K.
Pros:
Creative Control: It offers extensive customization options, allowing users to fine-tune the speed and other aspects of their slow-motion footage, giving them full creative control.
AI Approach: The AI-based text prompt approach can be very appealing to users with many ideas.
Cons:
Limited Free Use: Runway does not offer much for free users, making it difficult to explore the features it has to offer.
No Manual Editing: Users looking for the normal way of editing may find this app too different from what they're comfortable with.
Canva Slow Motion Video Maker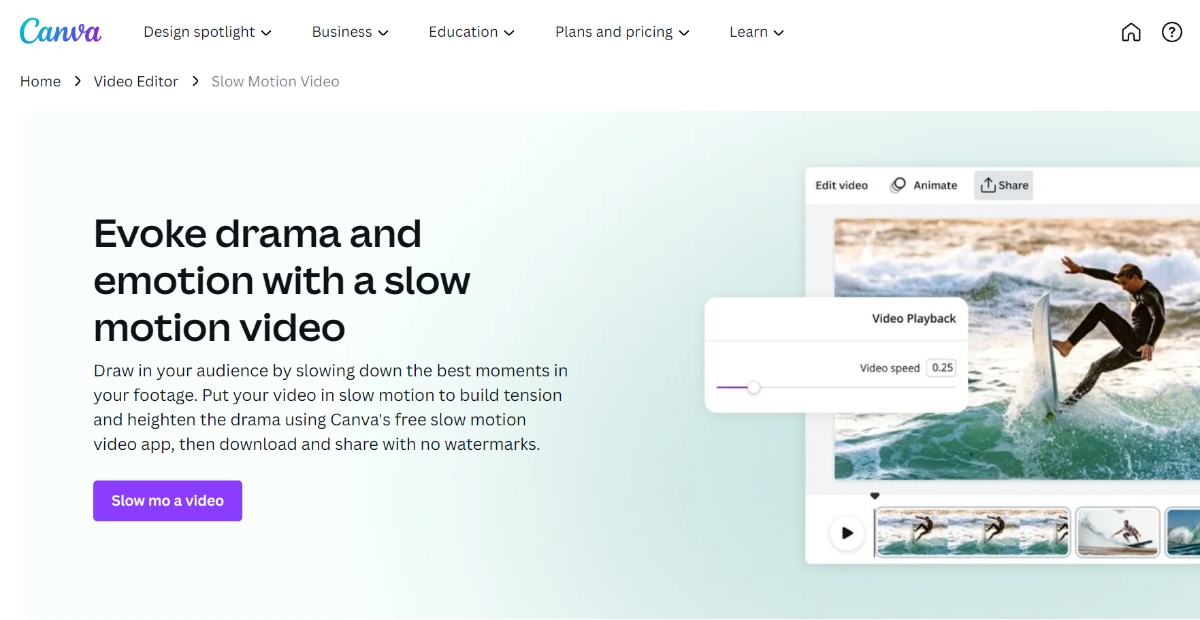 Canva Video Editor offers a convenient platform for creating slow-motion videos, catering to a wide range of users who seek to infuse their projects with captivating visual effects. It's a suitable choice for individuals and small businesses looking to incorporate slow motion into their projects without the complexity of professional video editing software.
Pros:
User-Friendly Interface: Canva's intuitive design makes it accessible for beginners interested in adding slow-motion effects to their videos without a steep learning curve.
Template Library: Canva provides an extensive library of templates and elements, simplifying the process of creating visually appealing slow-motion videos.
Cons:
Limited Advanced Features: Canva Video Editor might not offer the advanced controls and frame interpolation options found in dedicated video editing software, limiting its ability to create highly refined slow-motion effects.
Limited Formats: The slow motion video maker does not offer enough video file formats for exporting.
Kapwing Slow Motion Video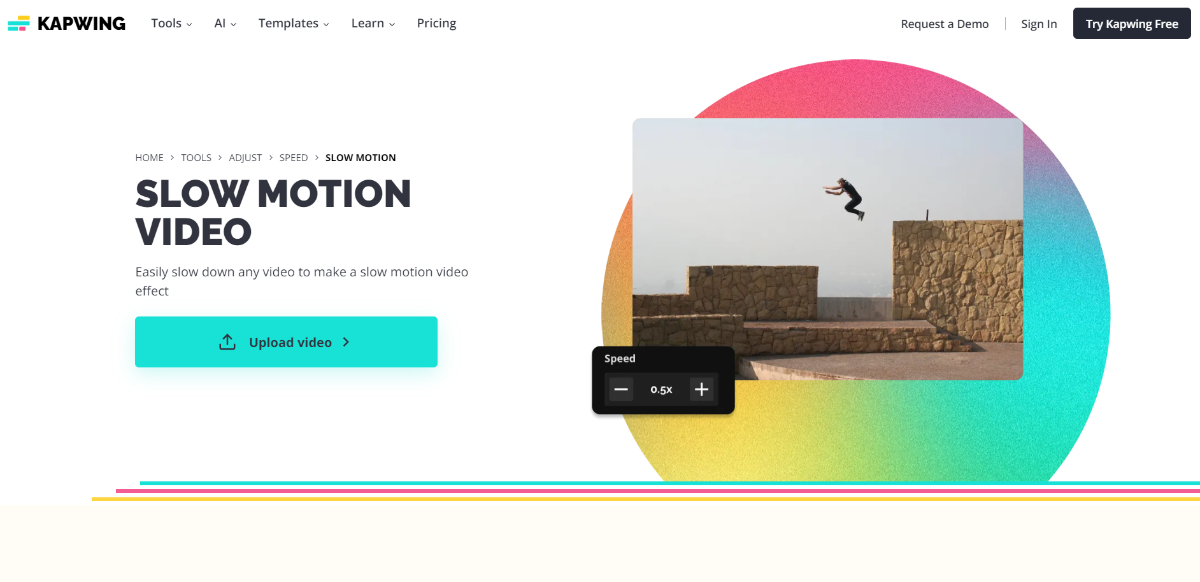 Kapwing Video Editor offers a user-friendly and accessible platform for adding slow-motion effects to videos. It's an excellent choice for casual video creators and those seeking a straightforward tool for enhancing their content. It also offers additional editing features that can be used to make your videos look better.
Pros:
Online Accessibility: As a web-based platform, Kapwing is easily accessible from various devices with internet connectivity, eliminating the need for software installations.
Collaborative Editing: Kapwing supports collaborative video editing, enabling multiple users to work on a project simultaneously, making it suitable for team projects.
Cons:
Simple Slow Motion: Similar to other online platforms, the slow motion options provided here are rather simplistic.
Clideo Video Speed Changer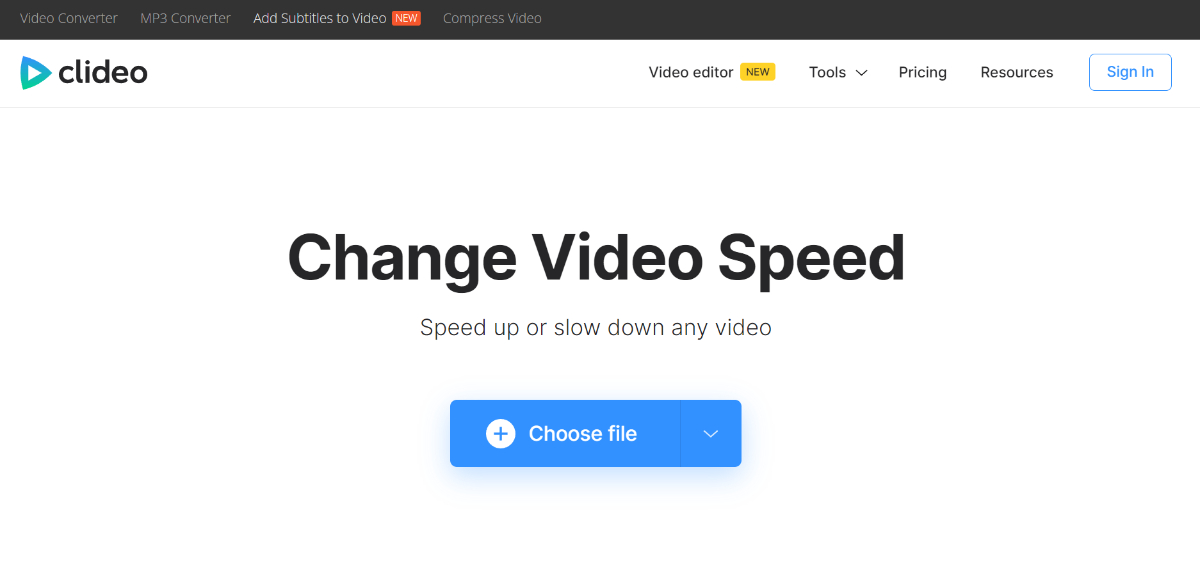 Clideo is a well-known online platform for video editing and other features. It is also a slow motion video editor that you can use for creating slow motion effects for your videos. It can be a suitable option for most users thanks to its easygoing UI design.
Pros:
Accessibility: Users can upload their videos from multiple sources, including Google Drive and Dropbox. Video files can be large, which makes this option helpful.
Clean UI Design: The UI design is easy to understand with the website being highly responsive.
Many Formats: There are many formats, including WMV, WEBM, and FLV, to choose from when exporting the video.
Cons:
Very Basic: Clideo slow motion video maker does not offer any other feature besides altering the playback speed.