Besides quality and resolution, the FPS (Frames per Second) is arguably the most crucial part of a video and it directly affects the viewer's watching experience.
A FPS converter is a software tool used to modify the frame rate of a video file. Frame interpolation can adjust the frame rate of videos so that they play smoother and fix other related issues. The technology behind video FPS converter tools involves altering the timing and sequencing of individual frames within the video.
Many users and professionals, including content creators, video editors, streamers, and more, use a 60 FPS converter to improve their videos. And some of them may use AI Video Enhancer to further enhance the video quality for high-resolution output.
Understanding Video FPS and How it Influences Playback Effect
Frame rates refer to the individual frames that occur in the video during playback each second. Frame rates that are around 24 to 30 are considered to be smooth to the human eye, which is why video media is often shot at or above 24 FPS, depending on the context.
Movies, in general, are shot in 24 FPS because it has a characteristic cinematic quality to it. This frame rate tends to make motion feel a bit out-of-the-world and immersive at the same time. They also allow the viewers to understand the film better.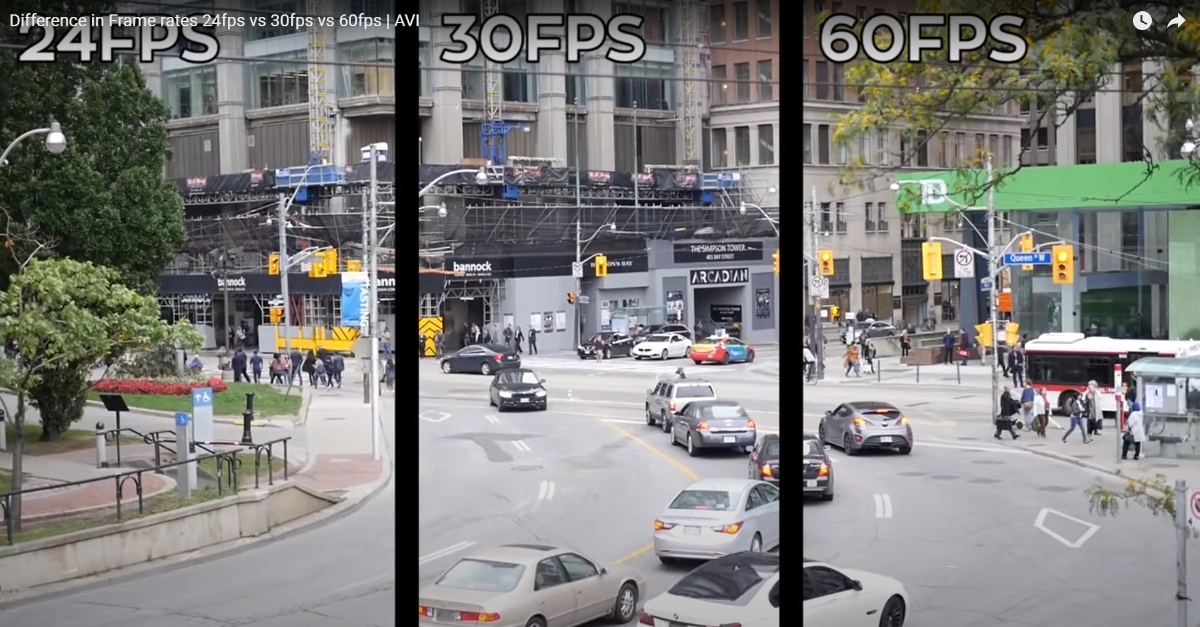 Image Credit: InfoTV CA
30 FPS is commonly used in television broadcasts and is the standard for many online videos. It offers a smoother and more detailed look compared to 24 FPS. The higher frame rate reduces motion blur, resulting in a crisper image.
Lastly, 60 FPS is best for representing lifelike motion and animation, making it ideal for video games, sports, and other similar visuals. Many streamers and video content creators use apps that make videos 60 FPS so that viewers can experience the game better. Many streamers and video content creators also use AI Video Upscaler apps that make videos 60 FPS clearer.
What is a Video FPS Converter?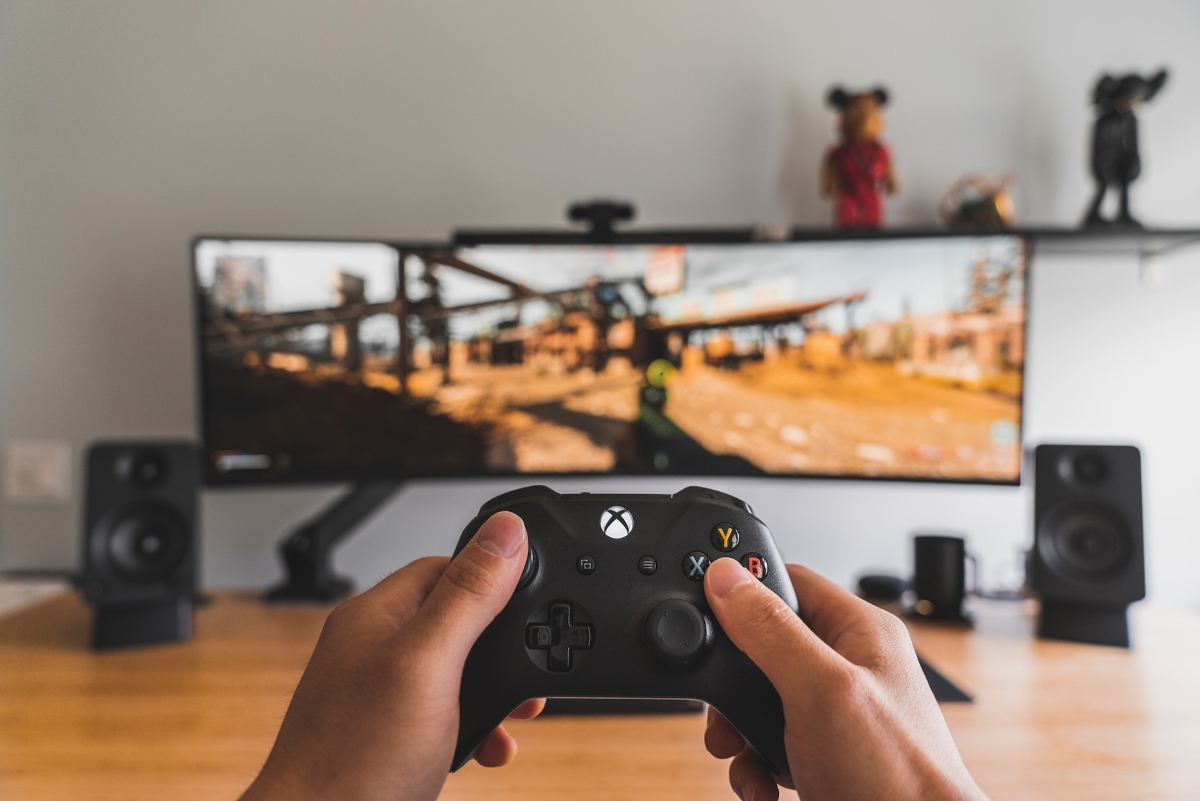 Users utilize frame rate converter apps for many reasons, including adjusting frame rates for smoother playback or to meet specific platform requirements, creating slow-motion or time-lapse effects, resolving synchronization issues, and more.
The technology behind FPS converters, such as 60 FPS interpolation, involves altering the timing and sequencing of individual frames within the video. This typically includes duplicating frames or interpolating new ones to match the desired frame rate. Advanced algorithms are used to ensure that the converted video maintains visual quality and smooth motion, as changing the frame rate can impact the overall speed and fluidity of the video playback. If you want to make a video slow motion, you may try a slow-motion maker.
What Can an FPS Converter Do?
In this section, we will take a brief look at various scenarios where a 60 fps video converter would be really useful.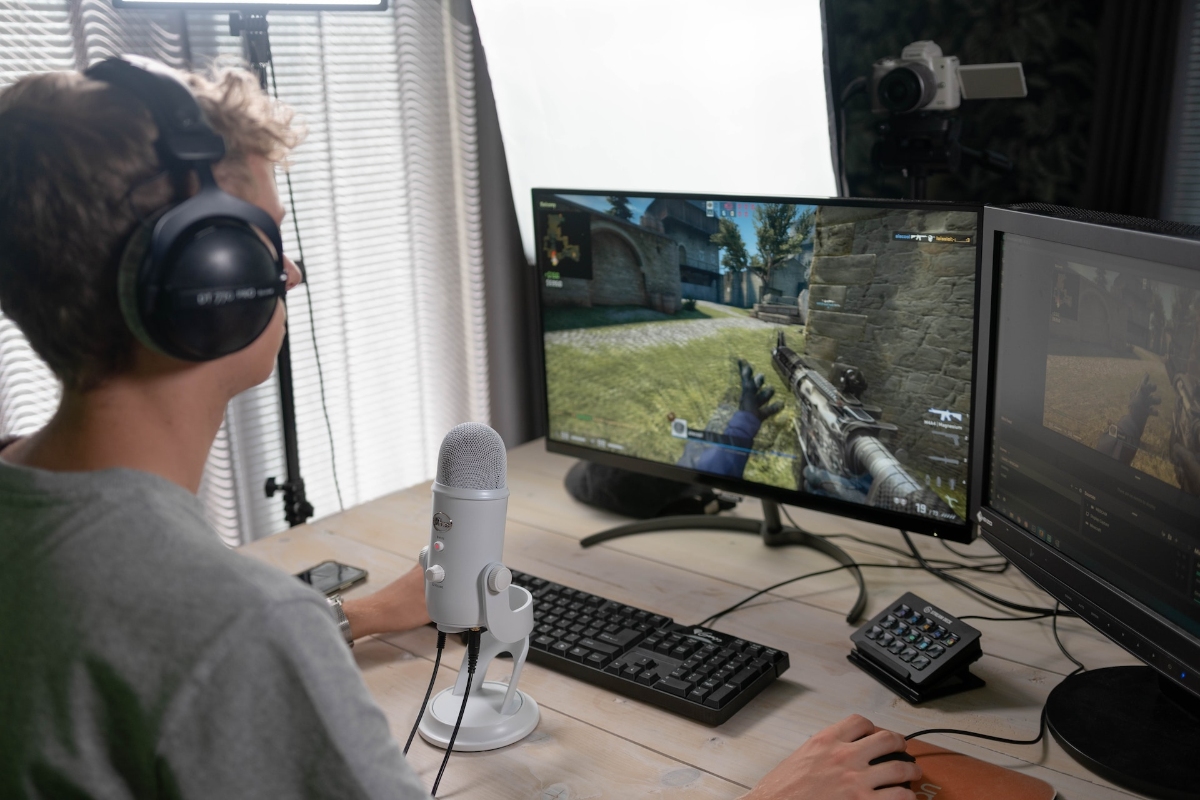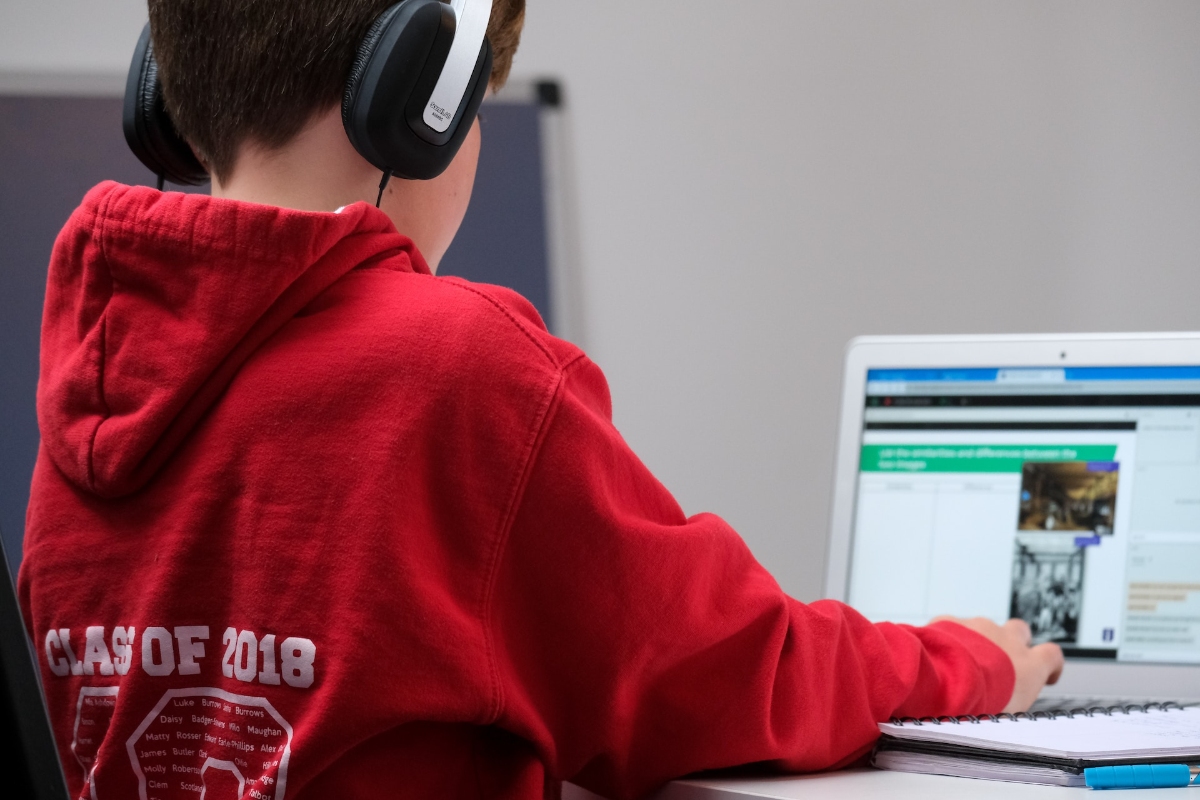 Convert Video to 60fps: Best 5 Video FPS Converters Recommendation
1. Veed.io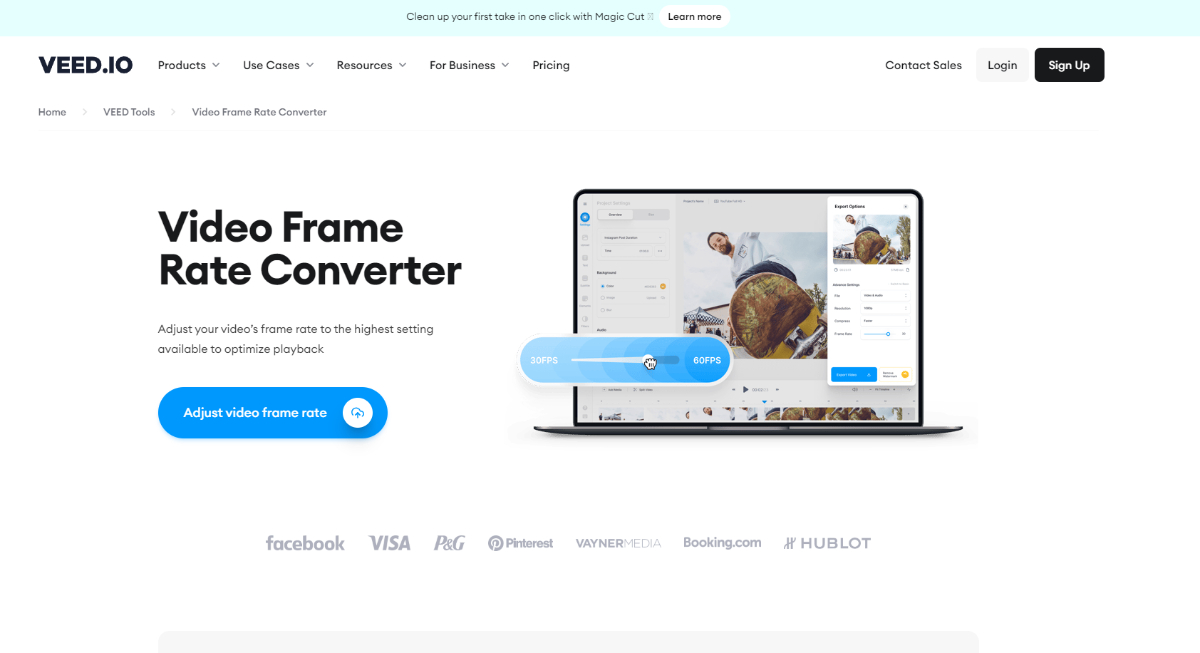 Veed.io provides a convenient and accessible way for users to modify the frame rate of their videos to suit various platforms or preferences. This online 60 fps converter tool is user-friendly and can be accessed from any web browser, making it a practical choice for quick FPS adjustments to convert video to 60fps. In addition to FPS conversion, Veed.io offers a range of other video editing functionalities.
Pros:
Cloud-Based: As a web-based 60 fps converter, Veed.io eliminates the need for users to download and install software, making it accessible from virtually any device with an internet connection.
Ease of Use: Its intuitive interface and straightforward tools make it particularly suitable for users who are new to video editing and FPS conversion.
Fast Turnover: Veed.io typically offers fast processing times for basic video edits, including FPS conversion.
Cons:
Watermark in Free Version: The free version of Veed.io may include watermarked output, which can be removed with a paid subscription.
Privacy Concerns: Users should be cautious when uploading sensitive or private videos to online platforms like Veed.io, as it involves uploading content to external servers.
For more detailed information about this product, and learn how to convert video to 60fps you can refer to Veed.io Review.
How to convert video to 60fps?
Step 1: Open Veed.io and then find the video.
Step 2: Click 'Choose Files' to upload your video.
Step 3: Select change size, bitrate or frame rate.
Step 4: Locate the frame rate and then choose 60 from the drop-down menu.
2. Video2Edit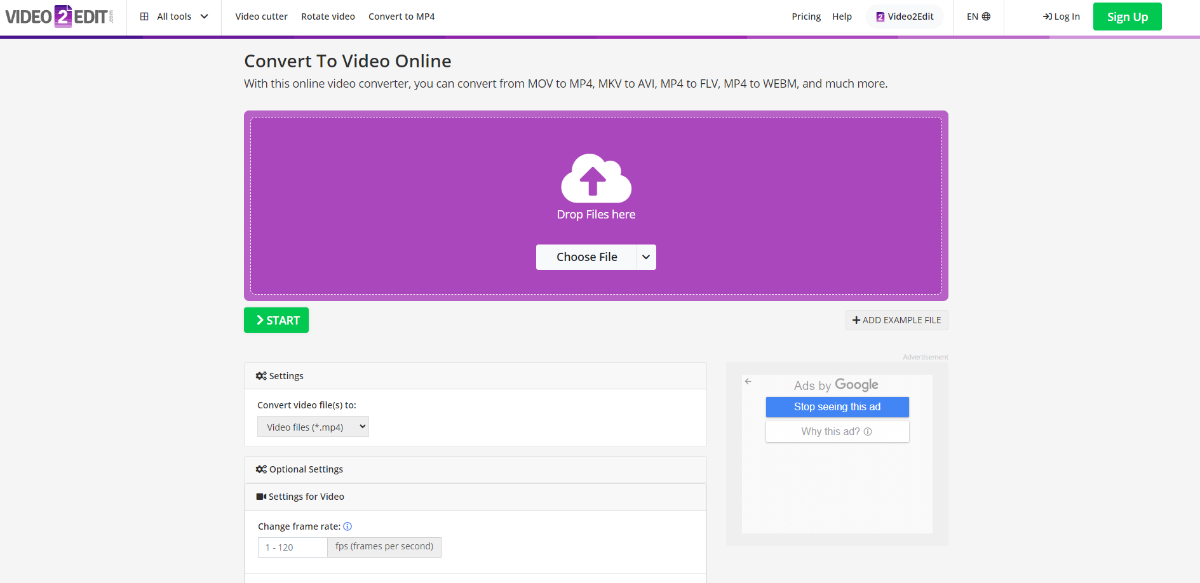 Video2Edit is an online video editing service that offers a range of features, including the ability to perform FPS conversion on videos. As a web-based platform, Video2Edit provides users with a convenient and accessible solution for modifying frame rates without the need for complex software installations or downloads. Its user-friendly interface caters to both beginners looking to make simple edits and individuals with basic video editing needs. Beyond FPS conversion, Video2Edit offers various other video editing tools.
Pros:
User-Friendly: It features an intuitive interface suitable for both beginners and those with basic video editing needs.
Range of Tools: Beyond 60 fps converter, Video2Edit offers various video editing tools, adding versatility to its capabilities.
Quick Processing: It typically provides efficient and swift processing times for basic video edits, including frame rate adjustments.
Cons:
Limited Advanced Features: For advanced video editing and precise FPS control, professional users might find Video2Edit lacking in comparison to dedicated video editing software.
Internet Dependency: Like other online video editors, it relies on a stable internet connection, which can be a limitation in areas with slow or unreliable connectivity.
3. Descript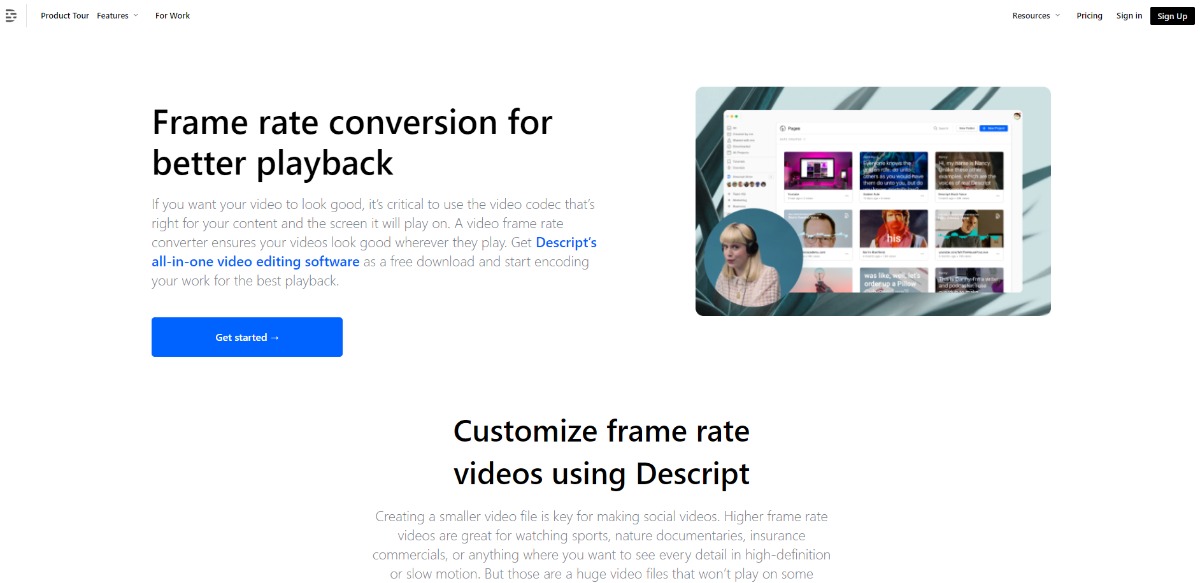 Descript is a versatile multimedia editing platform that transcends conventional video and audio editing by offering a unique approach to content creation and modification.
Among its array of capabilities, Descript provides the ability to perform FPS conversion for videos, catering to the needs of content creators, podcasters, and filmmakers. What sets Descript apart is its innovative integration of automatic transcription, enabling users to edit their multimedia content directly through a text transcript to easily convert video to 60fps.
Pros:
Overdub: An innovative feature called Overdub enables users to generate natural-sounding voiceovers using their own voice, further enhancing the editing capabilities of the platform.
Collaborative Editing: Descript offers robust collaboration features, allowing multiple users to work simultaneously on the same project.
Cons:
Subscription Cost: Descript's full range of features may require a subscription, which can be relatively expensive for individuals or small businesses on a budget.
Learning Curve: While user-friendly, the unique approach to editing through transcription may require some adjustment for users accustomed to traditional video editing software.
For more detailed information about this product, and learn how to convert video to 60fps, you can check out Descript Overdub Review.
4. EaseUS Video Converter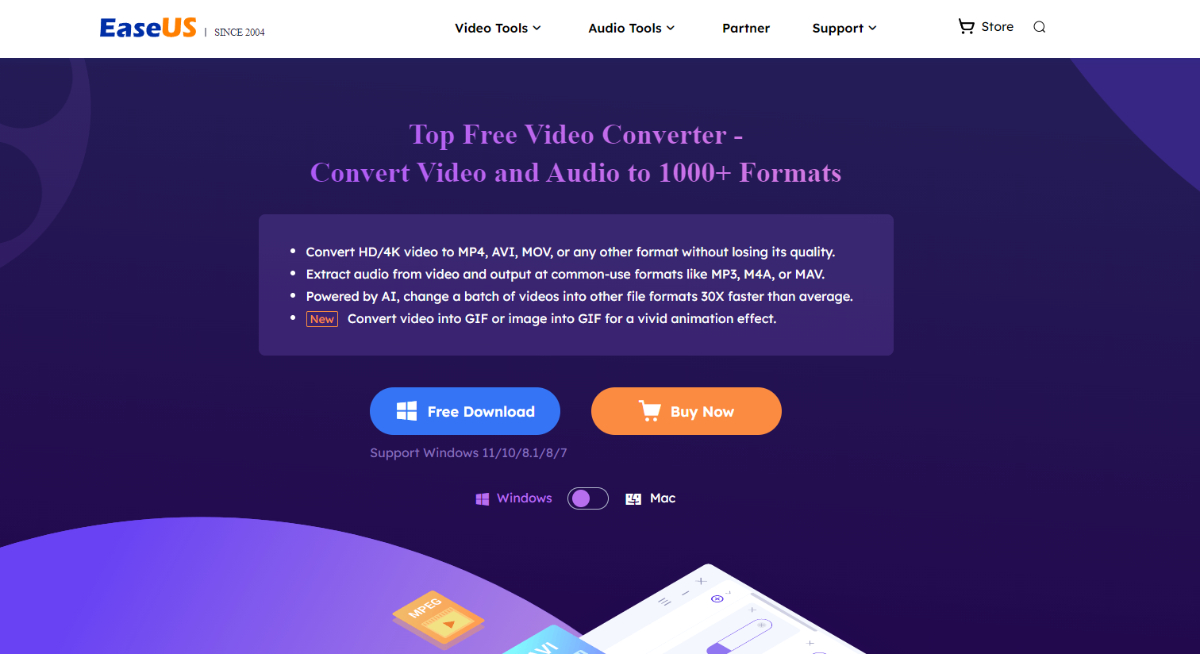 EaseUS Video Converter is a comprehensive multimedia 60 fps converter designed to facilitate the conversion and editing of videos. This user-friendly tool caters to a wide range of users, from novice content creators to seasoned professionals.
Pros:
Wide Format Compatibility: EaseUS Video Converter supports a wide array of video and audio formats, ensuring compatibility with various devices and platforms.
High-Speed Conversion: It excels in swift video conversion, making it suitable for users who require quick results.
Editing: The software provides basic video editing functions, such as trimming, cropping, and adding watermarks, offering added convenience for users looking to make simple edits.
Cons:
No Mac Support: As of my last knowledge update in September 2021, EaseUS Video Converter was available for Windows only, limiting its usability for Mac users.
Limited Audio Features: The software's audio editing capabilities are relatively basic, with more advanced audio processing options missing.
5. Neural.love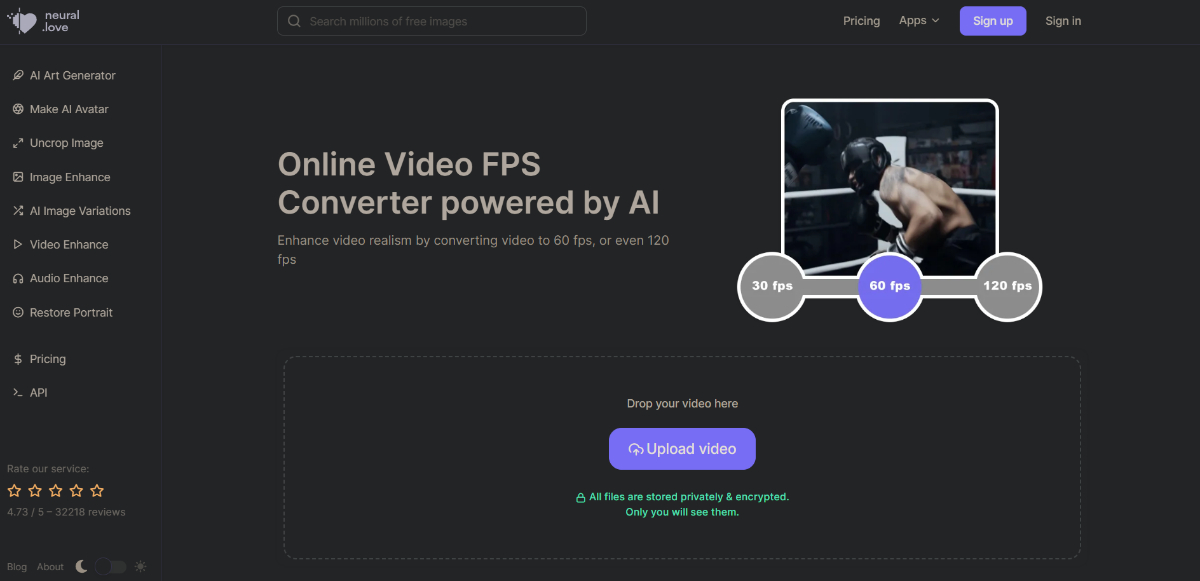 Neural.love is an innovative online 60 fps converter that combines artificial intelligence with creativity to offer users a unique experience in generating art and images. Using cutting-edge AI algorithms, Neural.love empowers individuals to transform their ideas into stunning visual compositions effortlessly.
Pros:
AI-Powered Art Generation: Neural.love leverages advanced AI algorithms to generate intricate and visually captivating art pieces, making it an excellent choice for artists seeking creative inspiration.
Instant Feedback: Neural.love provides instant feedback and visual previews, allowing users to fine-tune their creations in real time.
Cons:
Limited Customization: While Neural.love 60 fps converter provides various styles and presets, the level of customization for individual elements within the generated art may be limited compared to more advanced graphic design software.
Conclusion
These 5 best video FPS converters allow you to easily convert video to 60fps. After our evaluation, we compared the five products mentioned above in order to provide you with purchasing suggestions.
| | | | | |
| --- | --- | --- | --- | --- |
| Product | Pricing | User-friendliness | Outstanding Features | Overall Rating |
| Veed.io | Freemium | ★★★★☆ | Cloud-Based | ★★★★☆ |
| Video2Edit | Freemium | ★★★★☆ | Quick Processing | ★★★★☆ |
| Descript | Freemium | ★★★☆☆ | Overdub | ★★★☆☆ |
| EaseUS | Freemium | ★★★★☆ | Wide Format Compatibility | ★★★★☆ |
| Neural.love | Freemium | ★★★☆☆ | AI-Powered | ★★★☆☆ |